Montreal, January 17, 2023
Data is a powerful tool that can be used to increase gender equality in the workplace. This article will explore how companies can use data tools like dashboards to analyze their workforce, pinpoint areas where they may have gaps in gender equality and take steps toward closing those gaps.
How technology increases gender equality
In order to solve the gender equality problem, we need to able to understand it. Data analytics can help us do this. It is important to use data analysis in order to make informed decisions about your company's culture and operations. This will allow you to see if there are any areas where women might be underrepresented or less likely than men to be promoted or become leaders of the company. You can also see if there are any opportunities for improvement in these areas, such as providing more training or mentorship programs for women who want careers in STEM (science, Technology, Engineering, Mathematics).
IBM CASE STUDY: Discover IBM case study: Inventorship and patenting from a gender perspective
To drive progress on this commitment, IBM is continuing to invest in important programs to build a more diverse STEM workforce which includes greater female representation. IBM partnered with IVADO and Makila AI to analyze granted patents filed by IBM from a gender perspective, and map to what extent these patenting activities are inclusive for women.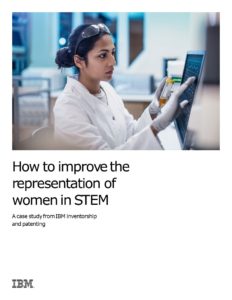 New data tools give companies the ability to create real-time dashboards.
The ability to use data to improve your business and employees' experience is a not a new concept, but it's still relatively untapped one. The most common use of real-time data is to create dashboards that give managers information about how their teams are performing.  These dashboards can be used for more than just reporting; they can  be used to make decisions and act on them immediately. For example, if you're an HR professional who uses a real-time dashboard that tracks candidate and employee satisfaction, you can spot trends in employee satisfaction as they happen and take action before they become an issue.
When using data analysis for gender equality initiatives, remember that it does not just mean analyzing numbers and statistics; it also includes analyzing employee engagement surveys so that all workers feel valued by their employers regardless of gender identity or sexual orientation (or any other demographic trait).
 Diversity and Inclusion dashboards can help leaders make informed decisions
Diversity and Inclusion dashboards can help leaders make informed decisions. Tracking data on your organization's demographics can help you see if your company is employing the right number of people, in the right roles from all different backgrounds.
These dashboards are also useful for creating a culture of accountability within your company.  A good D&I dashboard will provide information about demographic groups in a way that's clear and easy for leaders to understand, this helps them make informed decisions about their workforce. For example, if a leader is looking at data on the percentage of women in leadership roles, they should be able to quickly understand what this number means, and whether it's something they want their organization change or improve on.
D&I metrics can also be used to compare different groups of employees, like women versus men or managers versus non managers. They can also ne used to track performance over time, which is particularly useful for assessing progress over a long period of time or against other companies. If you have been tracking our organization's diversity and inclusion metrics closely, you may have noticed that certain groups tend to show improvement more quickly than others. This can help leaders identify areas they might want to focus on when it comes time for annual reviews and/or promotions.
Dashboards are also helpful in comparing demographic groups withing your company over time; if you have a lot of women in finance roles but very few serving as senior executives; if there are fewer racial minorities than white employees at each level: if workers at one location tend to fall into higher categories while another location falls into lower ones… all these comparisons can help illustrate where there are gaps between expectations and reality and what steps might need taken next closing those gaps
In conclusion, we'd like to reiterate that data can be a useful tool in improving gender equality in the workplace. It can help companies determine where they stand on issues of diversity and inclusion. With these insights in hand, leaders can take steps toward creating more inclusive workplaces where all employees are valued equally regardless of gender identity.
Join Makila AI in the 50-30 Challenge initiative:
Makila AI is proud to be an early adopter of the Government 50-30 Challenge to accelerate diversity and inclusion in our workplace.
Canada's 50 –30 Challenge asks firms to make two aspirational commitments to increase diversity on Boards and in senior management over time, and report on their progress. Participating companies, organizations, and not-for-profits agree to voluntarily take action towards achieving meaningful and substantive improvements in supporting diversity and inclusion within their organization, as outlined in the Challenge. The Government is looking to partner with these organizations in their efforts and is examining supports for participating organizations to help them achieve these goals.
Read more about the 50-30 challenge and learn how you can get involved:  The 50 – 30 Challenge: Your Diversity Advantage (canada.ca)
To learn more  and schedule a demo: Scheduler – Pipedrive
Media Contact
Salma Lamrini
+514 284 7400
salma.lamrini@makila.ai
Partagez :