ISO/IEC 27001:2013 specifies the requirements for establishing, implementing, maintaining and continually improving an information security management system within the context of the organization (cf. www.iso.org). It also includes requirements for the assessment and treatment of information security risks tailored to the needs of the organization. The requirements set out in ISO/IEC 27001:2013 are generic and are intended to be applicable to all organizations, regardless of type, size or nature.
As part of its client services activities, Makila was eager to prove its processes quality and its dedication to ensure a high level of security, especially regarding the client data security.
Therefore, Makila started a full audit process in 2020 led by an independent certification authority. The main goal was to evaluate the implementation and efficiency of the ISMS (Information Security Management System), including an evaluation of the ISO 27001 conformity.
The audit conclusion states that Makila has demonstrated a global conformity regarding the ISO 27001 standard. Based on the audit conclusion, Makila has established and maintained its management system in line with the ISO requirements and has demonstrated that the current system is able to address in a systematic way the requirements, goals and policy of Makila. In conclusion, Makila officially obtained the ISO/IEC 27001:2013 certification.
Audit conducted by: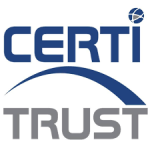 Share: